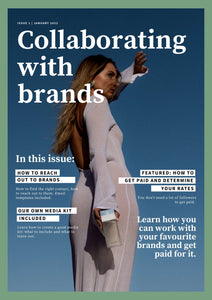 This 67-page eBook will teach you everything you need the know about the wonderful world of brand collaborations. If you're interested in landing brand collaborations and want to secure paid partnerships, this eBook is for you.

We'll dive deeper into aspects like:
- How to create value
- How to find the right brands and the right contacts within those brands
- How to make a media kit and portfolio, including templates and our very own media kit 
- How to write the perfect pitch, including templates 
- How to follow-up and keep an overview of your collaboration requests
- How to determine your rates and how you can get paid more
- Working with agencies and influencer platforms
- Our top insider tips from years of experience
This eBook is for you if:
- You want to receive free products from your favourite brands
- You want to get paid to promote your favourite products
- Regardless of the amount of followers you have

Collaborating with brands and generating income through partnerships has allowed us to travel the world full-time during the past few years. On our first long trip abroad, we met a few people who introduced us to the world of brand partnerships. A few weeks later we secured our first partnership. We only made €200 with it, but it got us thinking: 'is it possible to make a living like this'?
Fast forward a few months later, and we secured our first 4-digit collaboration (2 of them in the same month even), and not even after a year we managed to land our first €10.000+ collaboration!
Interested to hear how we did it and how you can do it yourself? Check it out...
* no returns or refunds as this is a digital product