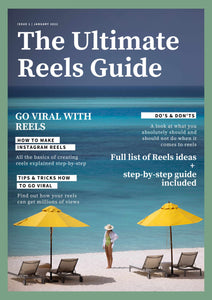 Going viral on Reels is the easiest way to grow your Instagram. This 97-page eBook will teach you everything you need the know about Reels. 
If you want to grow your Instagram, get more brand collaborations or land free hotel stays as a creator, or if you want to get your product or service out there and sell more as a brand, this eBook is for you.  

In this eBook we'll dive deeper into topics like:
- Why Instagram Reels are important
- How to create Reels
- What makes a Reel a good Reel
- Tips and tricks on going viral with Reels
- Mistakes to avoid when creating and posting Reels
- The Reel algorithm
- How to use Reels for your business
- What's next for Instagram Reels
- How to create a cover for your Reel
- Reels ideas for your specific niche
You'll also find a step-by-step guide to reels and a full checklist to increase your chances even further of going viral on Instagram.
This eBook is for you if:
- You want more followers on Instagram
- You want more engagement on Instagram
- You want to promote your products as a brand and attract new clients
- You're interested in using the power of Reels to get brand deals and free hotel stays
This eBook is for everyone. It doesn't matter if you're an established content creator, an aspiring creator who's just starting out or a business/brand owner trying to get more exposure for your restaurant, beauty brand, fashion brand, ...
Instagram is a very powerful platform that has allowed us to completely change our lifestyle. We grew our Instagram page from scratch to over 300.000 followers in less than 3 years and generate over 80% of our income through Instagram. This eBook will cover everything we learned over the years about Reels and includes tons of tips and tricks to reach more people with your Reels. Whether your goal is to get more free products from brands, stay at hotels for free, earn money with Instagram, build out your business, get more clients for your products or just grow a following you can influence, this guide will show you exactly how you can grow your community or client base using Reels.
* no returns or refunds as this is a digital product