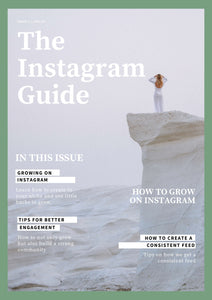 This 100-page eBook will teach you everything you need the know about Instagram. If you want to get better at Instagram, gain more followers and use Instagram to land brand collaborations or free hotel stays, this eBook is for you.  

We'll dive deeper into topics like:
- How to create better content
- Best times and frequency to post
- How to create your personal branding
- How to attract more people to your profile and gain more followers
- How to optimise your bio
- How to gain more traction by using hashtags, geotags, user tags & feature tags
- How to get your content reposted by big accounts
- The importance of captions and how to write a compelling caption
- How to increase your engagement
- How to get to know your audience and use this knowledge
- The power of engaging with others
- The importance of getting publicity online and in print
- How to create better stories incl. our favourite apps we use for stories
- The power of Instagram Reels
- The importance of using Instagram's latest features
- The best apps to elevate your Instagram content
- Using Pinterest to drive traffic to your profile

This eBook is for you if:
- You want more followers on Instagram
- You want more engagement on Instagram
- You want to create better content
- You're interested in using the power of Instagram to get brand deals and free hotel stays

Instagram is a very powerful platform that has allowed us to completely change our lifestyles. We grew our Instagram page from scratch to more than 235.000 followers in 2 years and generate over 80% of our income through Instagram. In this eBook we will cover all aspects of how the Instagram algorithm works and how you can grow your personal or business page. Whether your goal is to get free stuff from brands, stay at hotels for free, earn money with Instagram, build out your business or grow a following you can influence, this guide will show you exactly how you can grow a good foundation to achieve these goals.
* no returns or refunds as this is a digital product